ROUND ABOUT
ABOUT SOUND:FRAME

In its first 4 years, sound:frame festival has become one of the most popular audio:visual festivals in Europe. As early as 2008, the British DJ Mag named the festival "Best VJ Event 2008" and an international network is becoming more and more apparent.
The core of the sound:frame festival is audio:vision. Every year in March/April, the latest audio:visual forms of expression are presented and discussed throughout exhibitions, live events, workshops, screenings and discussions. Particular attention is paid to the interaction of (electronic) music und visual media, VJing and different kinds of video art.
From 2008 on, every year of sound:frame has an additional special theme. While in 2009 the theme "EVOLUTION REMIXED" reviewed EVOLUTION of audio:vision ever since the 1920s and presented the REMIX as an artistic strategy, 2010's theme dimensions places special emphasis on the handling of certain spatial qualities and the audio:visual use of architectural structures.
sound:frame wants to serve as a platform for recent developments of artistic forms of expression and is to provide space for international communication of audio:visual artists. Furthermore, sound:frame facilitates artistic, formal and content-related innovation.
EVA SAYS...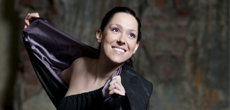 Eva Fischer
CURATOR AND ARTISTIC MANAGEMENT SOUND:FRAME
"I was always thrilled by the ability of audio:visual art forms to simultaneously address different senses and thereby uniquely enhance perception. Starting in 2006, I'm an active visualist myself. I find great pleasure in entering music, space and atmosphere with my visual worlds, and to tamper with them. Music creates a special sensation that can be enhanced by adding a visual dimension. By realising the sound:frame festival I would like to achieve an equalization of audio and video in this aspect and try sensitizing a wider public to the incredible power of audio:vision.
Every year, sound:frame approaches a new and special topic. I'd like to be able to sound out many more interesting and thrilling trends in the future. On the one hand, I want to bring acts and artistic points of view to Vienna, that you can't really experience very often here. On the other hand, it's very exciting to attract an international audience by creating a unique program."